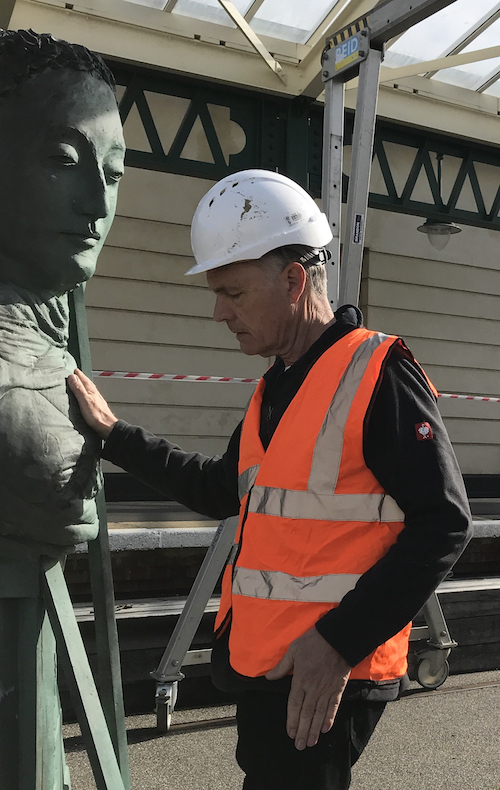 Helen Keller holding a Magnolia is a two-person exhibition by artists Simon Davenport and Cerith Wyn Evans. The works in the show are predominantly concerned with systems of communication.
Simon Davenport's Untitled, machine (2019) uses the ancient Chinese method of divination known as the I Ching to determine an order of pre-selected words and phrases. The outcome, displayed on an automated flipboard, is a poem reminiscent of the cut up method and references John Cage and Merce Cunningham who found the I Ching generative in determining sequences in choreography and music.
Still Life with Phrenology Head is a film made my artist Cerith Wyn Evans in 1979 shot in Super8. The work is informed by references to literature, philosophy and film and examines a figure whose upper torso and head are depicted in monochrome while the lower half remains in colour. Several blind mice explore the composition, climbing across the subject's head. Blindness and sensory perception is a recurring theme in the artist's work. Still Life with Phrenology Head was previously shown in 2011 at Isabella Bortolozzi Berlin in a group exhibition of the same name selected by Ed Atkins.
Other works include two paper collages from the series Portraits of Greatness (2007), cut-out discs from a photobook by Canadian-Polish photographer Yousef Karsh and a photograph taken by the artist's father Selwyn Evans. Simon Davenport also presents two cast concrete ellipses adorned with leather straps and a metal bell.
Simon Davenport solo and duo projects include; Pale Havoc at Henry Van De Velde's Maison Gregoire in Brussels (2017); Tinitus Ditritus at Second Room in Gent (2016); New Pabulum at Kunstraum in London (2016); Noumenal Menagerie at Trampoline in Antwerp (2015)
Cerith Wyn Evans has had solo exhibitions at Museo Tamayo, Mexico City (2018); White Cube Bermondsey (2017); Tate Britain, London (2017); Museion, Bolzano, Italy (2015); The Serpentine Gallery, London (2014). He also represented Wales at the 2003 Venice Biennale.